White nights conference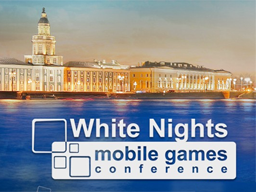 Somewhere in the middle of May I've heard about one famous event in the game-developement industry – the White Nights conference which's gonna take place in the Saint-Petersburg city. The fact that Vasilievsky island has been announced as the venue has become an additional motivation for me to take part in this event. Basic motivation of course was to listen to wise men who succeeded in game-developement, besides, the list of conferies was very promising.

Conference lasted for two days and about 15 persons made their presentation during this time. There were representatives of big e-markets (Google-Play, Microsoft Market Place, Opera Mobile Sofware), developers companies (i-FREE, alawar, BigFish Games), and indy-developers as well (Max Grinev, Anton Volnykh).
Main surprise that was prommised by conference organizers became Willie Hiedjari – the representative of Rovio company well known due to thier famous Angry Birds. But he couldn't get to conference and made his presentation in skype.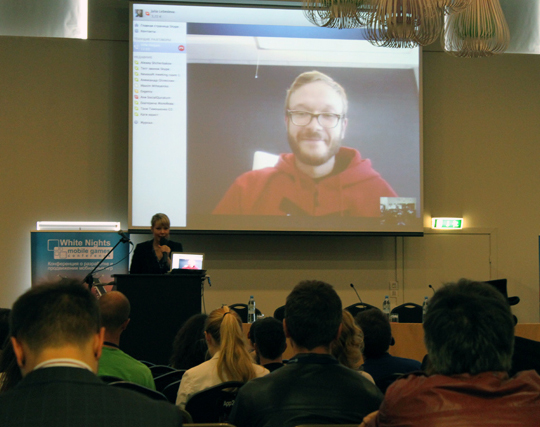 Honestly, I was preparing myself to the worst thing when saw a list of presetators. I thought, the conferies's gonna put into our minds the thougts than there is nothing to do on the market for small companies and especially for indy developers. Fornunetaly, nothing bad happened and I didn't feel myself doomed. Besides, the conference had game-developement specific. Well, let's begin in order
First day was warming-up, and slighly boring from my perspective in compare with second one. Main agenda was market analytics and application stores. From analytics I liked very much the presentation of Richard Ferminger from Flurry agency which deals with deiffrenet stats connected with mobile developement. His presentation was rich for different charts and numbers which looked very useful. The basic Richards idea was that developers when starting their products don't bother themselves with populating market statistics and don't know for who and why do they develope their product.
Next there was app stores session. There were presentations by representatives of Google Play (Sanjar Ismailov), Windows Market Place (Vladimir Kolesnikov), Opera Mobile Store (Alexandra Ilina), and alternative Android-market GetJar (James Mooney). Their presentation were quite interesting but as far as I've chosen iOS developement for myself this part of conference was not enough useful for me.
Second day was dedicated to publishing and indy-developement. Publisher companies representatievs (BigFish Games, Alawar) made their presentations. Their basic idea was in the following. If you want to enter to market you have several options, but first of all you need to decide, where will you get the money for you project. There are few options. 1. Use own money 2. Get for help to publishers 3. Think about loans and grants 4. refer to core investors 5. apply to non-core investors 6. to earn start income on mobile market
As always there are pro and contras. If you use your own money then nobody can prevent you from implementing the game of your dream. But there is serious risk: the money can be over. And usually it happens at a time when they are needed most – at the stage of promotion.
The second surprise was the show after the Rovio exclusive interview with the head of mobile development company Disney Dekrerom Bart. Bart said the company plans to launch a new game project, inspired by the new film from Pixar, and shared some secrets of a super-hit "Where is my water?" (Crocodile Swamp.) Summing it Bart, we can say that 100% of the way to achieve success – to create something really unique and awesome. That's what I could tell myself)
The only conferee that I was pleased and offered hope by his positive presentation was Max Grinev – an indy developer, creator of the AppStore hit – Contra Jour.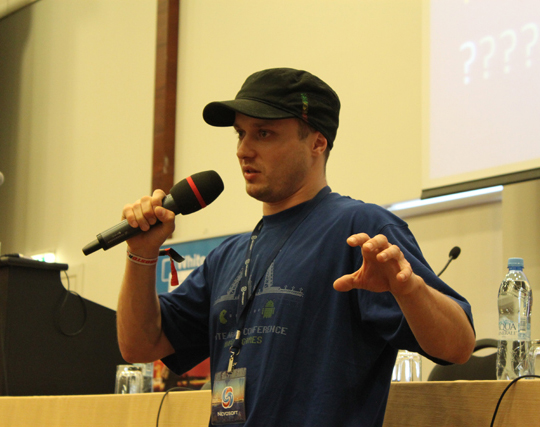 He spoke very convincingly. His main thesis – it is not necessary to go to the publishers, it is possible to succeed yourself. He invested 5000 usd to his game,  3.5  of which was payed to graphic design services, and 800 to buy iPad. It's really inspiring, because when you hear from everywhere that the promotion budget starts with $ 100 thousands, and that 60% of the products do not discourage their budget … doesn't add any desire
PS. I've got to a shot on one of the coffee-break :)